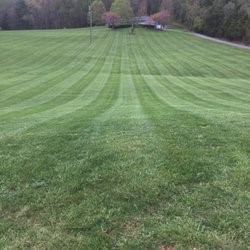 We work as a commercial lawn maintenance service in Roseburg, Grants Pass, and the surrounding areas, to keep the lawn at apartment and condominium complexes, rental properties, dental and doctor offices, healthcare facilities, retirement communities, retail locations, distribution centers, and other business properties at the proper height, health, and beauty. To cut your grass and maintain a lawn that you can be proud of, we use push mowers, riding mowers, lawn tractors, trimmers, leaf blowers, and other tools, all while being courteous to your customers, clients, patients, and staff. We cater a weekly lawn service, mow on a regular basis, as well as on a project or call-as-needed basis.
You've come to the perfect place if your company requires commercial lawn maintenance in Roseburg Oregon. We at Hillside Lawn Care and Landscaping Maintenance recognize the value of making a good first impression on your customers or clients with your lawn and landscape. Furthermore, our lawn mower teams are aware of the importance of the first impression they make on your company. We work hard to ensure that visitors and employees to your business perceive our commercial landscaping crew as professional, respectful, and representing a favorable image. Lawn Mowing Service is Cutting the lawn with grass discharged, bagged, or mulched.
A commercial property who put their business' lawn maintenance in their priority list thinks highly of the visual impression that their premises give out to the clients and customers. If you believe that, and so do we. Lawn Mowing is a big part of lawn care that has to be done on a regular basis because grass doesn't stop growing or neither care for itself!
Now, leave your Grass and yard maintenance works to our expert teams and we will surely not only give you an attractive lawn for yourself, but also for your valued clients!
Our commercial landscaping program offers weekly lawn care and other schedules that our clients require.
We offer:
yard cleanup - we will clean your commercial yard in a professional manner.
advanced tree care - Regular tree trimming, pruning, felling/thinning in built environments keep trees strong, creates a healthier structure, and reduces the need for future corrective pruning
garden design- attract more business with the perfect commercial garden design that you want
blackberry removal- we will provide you a very efficient service of blackberry removal in your business yard
and so much more!
We cater to a variety of different types of properties.
complexes of apartments
condominium developments
properties for rent
dental clinics
physician's offices
shopping malls
facilities for health care
retirement residences
restaurants
retail establishments
centers of distribution
structures for offices lawn mowing service.
Commercial lawn mowers are often used on larger commercial properties to cut down the lawn area that would otherwise be left un-mowed by the average homeowners. It is estimated that commercial lawn care and landscape maintenance costs can be up to 10% more expensive than residential lawn care costs. Commercial properties are generally smaller in size with a smaller number of flowering plants, larger trees, and more professionally landscaped areas to maintain. Keeping up these areas takes up little time since these areas are usually small enough to be handled by a single vehicle.
It is highly recommended that business owners should hire a landscaper for the upkeep of their property because it takes time and money to create a professional landscaping design. It is important for landscaping design to be done properly to make sure the business looks attractive to potential customers.
Commercial lawn care as much as commercial landscaping needs are different than residential ones. It requires the correct tools, proper equipment, and knowledge of proper techniques and procedures for the yard maintenance and ensures that it stays green and beautiful. A service provider for commercial lawn mowing in Roseburg Oregon understands all of the requirements and knows the best ways to keep a commercial property looking great and well maintained. Commercial lawn care needs involve professional lawn care providers who have a vast amount of knowledge about commercial lawn mowing and lawn maintenance along with the tools to get the job done. It may be an idea to research different landscaping companies in Roseburg before choosing the one that best suits your individual needs.
Lawn Maintenance takes a lot of time and effort, especially in the summer when the longer days encourage more grass growth. That means you'll have to mow your lawn more frequently, which will take even more time away from your already hectic schedule. It's crucial to follow HOA requirements for grass length in residential areas, and it's just as critical for businesses in commercial areas to make sure they're putting their best foot forward with their landscaping maintenance.
If you're tired of weekly lawn mowing simply to stay on top of the demands of lawn care, try hiring a lawn mower company in Roseburg, Oregon to handle your lawn care needs while you relax and enjoy your weekends.
Our Commercial landscaping services do not limit to landscaping design alone. Caring for commercial properties doesn't end with how they look at first sight because of the different elements installed, but also keeping regular healthy yard maintenance.
If the owner keeps his lawn maintenance healthy, and so does his business! Call us now at (541) 577-1887 to require an estimate!