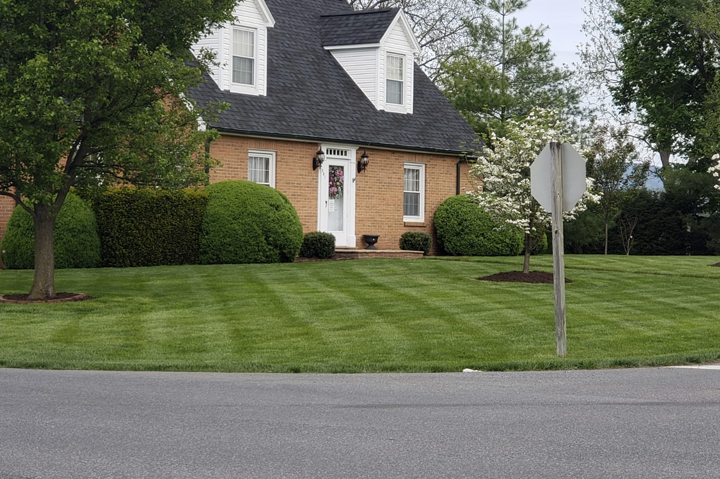 SERVICES FOR LAWN MOWING
Few things are more aggravating than working endlessly on your lawn and not seeing the desired results, which is why Hillside Lawn Care and Landscape Maintenance in Roseburg, Oregon is such a valuable resource.
You don't have to toil away in your yard to achieve the quality lawn and landscape maintenance you desire. With our thorough and extremely effective residential lawn mowing and maintenance services, we can take care of it for you.
MOWING AND MAINTENANCE OF THE LAWN IS AN ONGOING BATTLE
Most people have no qualms about going outside once a week, doing lawn mowing, trimming, and edging. That is, in fact, something that some individuals enjoy. The trouble is that your grass needs proper lawn care, which takes time that you probably don't have.
Our lawn mower teams may visit your home each week to ensure our satisfaction guarantee residential lawn maintenance. This translates to:
the lawn mowing, pruning, edging, and blowing
looking for trouble spots on your property?
Providing specialized residential lawn care to deal with the issues
All of this while remaining cost-effective.
We're not your normal lawn mowing service. Our residential lawn maintenance services are dedicated to enhancing the appearance of your home. We thoroughly inspect your lawn to discover problem spots before they worsen into a more destructive presence. It might be a weed infestation, a pest problem, or something else.
Lawn Maintenance might seem an easy task for most of us. Just mow the grass, keep the yard clean, and then it's all a go! But what most of us aren't aware of, is that keeping a quality lawn is very tricky and requires a lot of fussy work. Lawn mowing alone is not just cutting the grass short or simply using a lawn mower. What you need is the help of lawn care companies who can do the works in a professional manner.
If you are having trouble with your irrigation systems, string trimming, pest control, bush trimming, lawn aeration, weed control, leaf removal, and snow removal, and all other property maintenance services, call us and we'll be there!
RESIDENTIAL LAWN MOWING SERVICE THAT YOU CAN TRUST
We provide residential lawn maintenance that is both effective and convenient for our customers. We are convinced that you will like working with our crews because of our flexible scheduling, professional crews, and affordable lawn care services.
Contact us right away to request estimate and learn more about our home lawn mowing and property maintenance services. Right now, our lawn mower teams are on standby.
Take Care of Your Lawn With Residential Lawn Mowing Services
When it comes to lawn care in Oregon, residents and businesses have a number of providers to choose from. With several companies vying for business in this often green state, it can be hard to choose the right provider for your lawn care needs. Look no further! Hillside Lawn Care and Landscape Maintenance is here to provide exactly what you need. We have just the kind of professional lawn care service you are looking for - no matter how big or small their lawn may be.
One of the most important things to keep in mind when choosing professional residential lawn mowing services is the customer satisfaction guarantee you receive, and that's what we bring our valued clients. With lawn care services that cover all aspects of the job, homeowners in Oregon can rest assured that their grass is in good hands and that a quality lawn is provided by our teams. Instead of working to maintain a pristine lawn that looks beautiful at the surface, we'll have a team of professionals working on it week in and week out to ensure that the green grass is thriving below the surface. By choosing a lawnmower with the right horsepower, like us, as well as the right drive train, for your specific needs, you'll have a consistently beautiful lawn that is healthy, and well-maintained spring and fall, all year-round. Choose a quality lawnmower and you'll end up with a better-looking lawn.
A quality lawn cannot be provided by your typical mow-and-go lawn care service provider. We do not just do landscape design, fall cleanups, lawn fertilization, lawn seeding, and even gutter cleaning. We are committed to being all-around lawn care and landscape maintenance service provider. Residential lawn care is not tricky and is an easy-to-find property maintenance service. But what you need is a company that can not only bring you a high-quality residential lawn care service but also an affordable lawn and a quality lawn in one! Hillside Lawn Care and Landscape Maintenance is here to meet your professional lawn demands. Call us not at (541) 577-1887. We'd love to be of service to you!