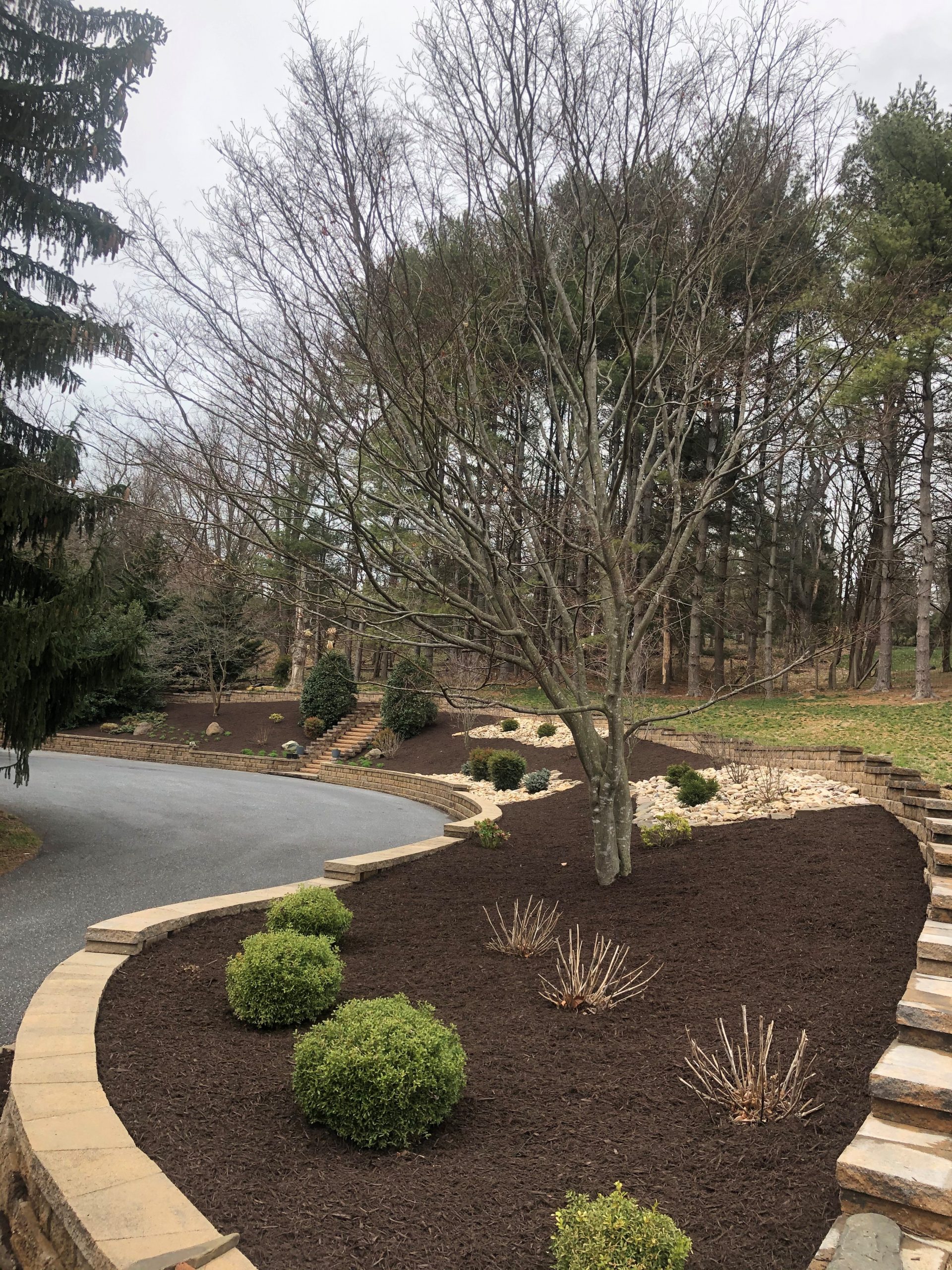 What is a general definition of mulching?
Spring is the season when everything gets a new beginning. The same can be said for your landscape's mulch. Mulch often breaks down into the soil and loses much of its initial sheen during the course of a lengthy Southwest Oregon winter.
If that sounds like anything you've seen on your property in between winter storms, now is a good time to start planning a new mulch application to your garden beds. However, with so many different varieties of mulch to choose from, there's a lot to think about. Do all mulches have the same properties? What kind of mulch is best for your lawn care?
Today, we'll go over the importance of mulch in the health and success of your landscape maintenance, as well as look at 9 different types of mulch for your Residential and Commercial landscapes.
Mulch Has 7 Landscape Advantages
Before determining which type of mulch is best for you, it's critical to understand the advantages that the perfect mulch may provide. Here are a few that are worth noting:
Mulch helps to retain moisture in the soil and reduces the amount of irrigation required.
It protects the roots by insulates the soil from excessive temperature variations.
Mulch can help to improve soil quality (depending on the type of mulch used), due to their organic materials.
Mulch helps in weed control by slowing down and/or suppressing weed growth while also making them easier to notice and remove.
Mulch prevents soil compaction.
Fresh mulch, in terms of aesthetics, gives a weathered landscape a new lease on life by acting as a ground cover.
It also serves as a reminder to keep maintenance equipment away from your landscape's roots and trunks
We look at 9 different types of mulch
Shredded hardwood vs. pine bark. nuggets that are small contrasted, Nuggets that are larger. Natural vs. dyed coloration
It might be difficult to choose the correct mulch for your landscape. It's enough to make you second-guess yourself when there are so many options and aspects to consider.
There are two kinds of mulches with various types each. One is the organic mulches and another is inorganic mulch. We want to make sure you obtain the proper mulch, so we put together this list of popular mulches to aid you in your decision.
Hardwood
Shredded Hardwood Bark: Shredded hardwood bark is one of the most popular and cost-effective types of mulch. It works well on slopes and is less likely to wash away than mulch nuggets. This lumber industry byproduct is easy to spread and takes a long time to decompose in the soil, making it a popular choice for natural-looking paths.
Hardwood mulch, on the other hand, can raise the alkalinity of your soil. If you have acid-loving plants in your landscaping, you may need to add fertilizer supplements to keep them happy.
Wood Chips: For playgrounds, walks, and walkways, wood chips that are chunkier and a more lasting type of mulch is ideal. Be aware of the nitrogen deficits it can cause in your soil as it decomposes due to its high carbon-to-nitrogen ratio when utilized in the landscape.
Pine
Pine straw (pine needles) is a slow-breaking mulch with a rust-colored hue that can offer your landscape a soft, unique look when compared to other typical mulches.
Pine straw can raise the acidity of your soil, making it ideal for landscapes with azaleas, rhododendrons, and some conifers. It's also an excellent solution for protecting newly planted ornamentals.
Shredded Bark: This mulch, like shredded hardwood, is easy to spread in landscapes and helps to retain moisture.
This type of pine bark mulch decomposes significantly faster than mulch nuggets, hence conditioning the soil.
Nuggets: This longer-lasting pine bark mulch is a lot looser mulch that doesn't excel in water retention or staying there, whether you choose large or little nuggets. On rare occasions, high winds and stormwater have been observed to float the nuggets, which can happen more frequently the larger the nugget.
Mulch made with cedar
The wonderful woodsy aroma of this golden reddish mulch is familiar to most of us. Cedar mulch is generally more expensive than the other mulches discussed here, but it lasts longer than most mulches due to its decay resistance. Its oils are also thought to repel insects naturally. This mulch does not provide significant nutritional value to the soil beneath it because it is long-lasting.
Unlike darker mulches that absorb light, cedar mulch's lighter hue helps to reflect light throughout the summer months.
Mulch of Cypress
Cypress mulch adds a burst of long-lasting golden color to landscapes, and like cedar, it reflects light, repels insects (excluding termites), and is naturally fungal resistant. Because of its matting ability, cypress mulch also helps to prevent soil erosion.
Rubber Mulch
This mulch is a relative newcomer to the playground scene; an example of inorganic mulch and it's employed for its ability to produce a softer landing surface. It is, however, safe to use around plants. This long-lasting mulch does little to increase soil quality, but it does help to keep pests at bay and weeds at bay.
This mulch option is a little more expensive, but it doesn't float and comes in a range of long-lasting hues.
Mulch that has been dyed
Today's dyed mulch comes in a variety of colors, the most popular of which are red, black, and brown. The mulch is colored with a water-based dye, making it safe for people and their pets to consume.
A curing period is necessary when dyed mulch is applied to your landscaping (usually a 24-hour period without coming in contact with water). Dyed mulches keep their vibrant color for far longer than non-dyed mulches.
Dyed mulches can also be triple-ground, resulting in a finer mulch that is easier to apply and has a richer appearance.
You can apply mulch in flower beds, planted trees, vegetable gardens, in newly planted ones, or even spread on an existing mulch to create a thick layer that can be very beneficial both in the soil and the plants and can also add a more appealing charm on your landscape by serving as your lawn ground cover. If you're worried about adding more than a layer of mulching, worry no more, especially if they are organic mulches because it will be more advantageous in terms of pest control, it also prevents weeds and gives that healthy and aesthetic look for a perfect garden blog!
Now, you've come to the right site if you're still undecided about which types of mulch are appropriate for your residential and commercial landscaping. We've spread mulch in our years of business landscaping experience in Southwestern Oregon enough to know how to choose the right mulch that will bring out the best in your property and its landscape.
Residential and commercial landscaping obviously needs high-quality landscape maintenance delivered by the best Lawn Care service providers. With all the different types of mulch available, you will be confused on how you should choose the right mulch, be it organic mulches or an inorganic mulch application, we would love to be of service to you!
Call us any time; we would love to hear from you soon!