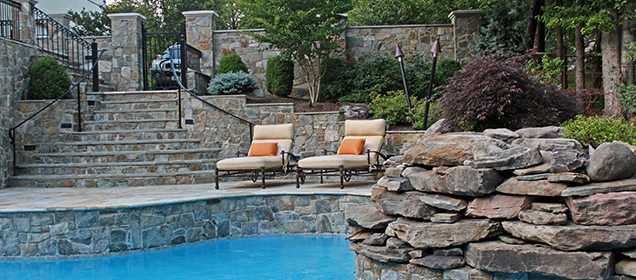 With a unique hardscape design, you may extend your living space to the gorgeous outdoors.
For good reason, hardscape design is all the rage in today's landscaping. Hardscape enhances your living area and increases the value of your home by using materials such as stone, pavers, concrete, gravel, or wood. It also adds to the overall experience of your one-of-a-kind house.
Consider how stunning retaining walls, water features, curving steps, and winding paths, and other landscaping idea using hardscape elements may change your outdoor space. On a sunny summer morning, you step outdoors to enjoy a cup of coffee on your new patio. Alternatively, you can gather your closest friends over a toasty fire in your new fire pit.
Hardscape design welcomes you to outdoor living spaces. Isn't that appealing? But where do you begin?
To learn more about developing a stunning unique landscape plan for your property, call Hillside Lawn Care and Landscape Maintenance at (541) 577-1887 or contact them online.
What is the definition of hardscaping?
"The term 'hardscape' refers to all of the non-living elements in landscaping, such as a brick patio, a stone wall, or a wooden arbor," according to The Spruce. Natural features in the landscape design are defined and organized by hardscape design. From a walkway to a driveway to a fence, it may be practically any form of structure. A wooden deck, a swimming pool, or a lovely pergola for dining al fresco, while we're dreaming. Hardscape design can be customized to match your desires and your land.
HLCLM specializes in unique design-build projects for houses in Roseburg, OR, and the surrounding areas. Get in contact with us today to schedule a meeting with one of our talented designers. Call us at (541) 577-1887 or send us an email.
What is the most appropriate landscape design for you?
Consider your entire landscape before dreaming big when constructing the perfect hardscape design for your place. Don't be afraid to speak up. Consider the characteristics of natural landscaping as well as how you intend to use your outdoor spaces. Then consider the areas you'd like to grow over time. Is it possible to define the shape of your herb gardens with a gravel walkway? An opulent outdoor shower? Now take your vision to a professional who can assist you in imagining what is achievable.
An experienced landscape architect from local landscape companies will come to your home for evaluation and consultation when you schedule a consultation with HLCLM. We'll talk about your possibilities depending on your hardscape design ideas, preferred hardscape elements, design features, and color options, expectations, and financial constraints. Then we create an outdoor design for your hardscape project and make a cost estimate. For additional information on a hardscape design-build project for your house, please contact us. Call (541) 577-1887 for more information.
Our design and installation services at HLCLM include:
Patios made of natural stone and pavers
Walkways
Work with Stones
Retaining Walls are a type of retaining wall that is used to keep things
Decking made of wood and composite materials
Plantings for the Garden
Trellises & Arbors
You might be astonished at how hardscaping can modify and improve your home's environment.
Commercial properties can benefit greatly from hardscaping as well! You can spruce up your workplace entrance or create a relaxing outdoor space for your staff to relax in.
We would love to help you achieve your very own hardscape design ideas for the relaxing outdoor living space that you have been dreaming of.
Set up a meeting with us today, and get ready to create your own personal hideaway with hardscape design!